Double Dutch braids are a classic hairstyle that never goes out of fashion. So if you're looking for an easy and quick updo to tackle daily, this is it.
The high bun is the perfect complement to any outfit: dressy or casual. It can be dressed up with hairpins and jewels or left simple with just a spritz of hairspray. The braid adds texture and volume to the crown area of your head, making it appear fuller than before! You'll love how easy these braids are to do – even if you don't have much time.
A simple hairstyle can be a great way to show off your creativity and style. One of the most popular easy styles is a bun, but many variations for this classic look.
With just a little bit of time and effort, these beautiful updos are achievable by anyone who wants them! Read on for more information about our favorite double Dutch braids high bun hairstyles.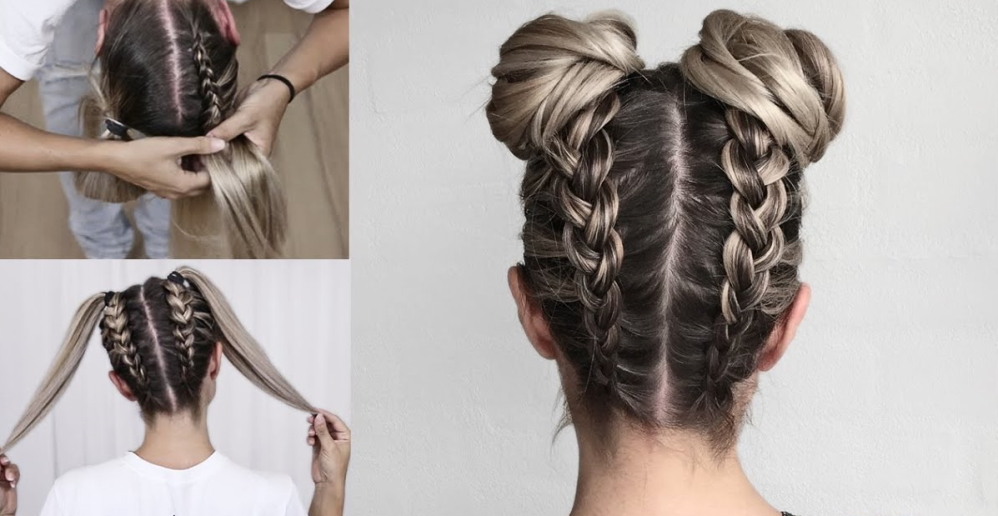 Double dutch braids as creative hair braiding ideas
Double dutch braids are a fun way to spice up your hair.  You can wear them as is or with some embellishments like flowers, beads, feathers, etc. The possibilities are endless! Here's how you do it:
Step 1 – Make two French braids in the back of your head and tie off each one with elastic bands.
Step 2 – Connect the ends of both French braids into a double Dutch braid that goes over the top of your head for extra security. Finish by adding embellishments if desired. This style is perfect for girls who want an easy yet creative hairstyle. See below for more pictures of the different ways you can wear this look.
Two dutch braids high bun for your perfect looks
With summer just around the corner, it's time to start thinking about appropriate hairstyles for hot weather. One of my favorite hairstyles is a double Dutch braid high bun. I've been wearing this style year-round and have never had a bad hair day.
The great thing about this hairstyle is that you can wear it with or without bangs depending on your preference. You can also make the top knot as large or small as you prefer by adjusting how much hair you put in the ponytail at the base of your neck before securing it with an elastic band. It's also easy to change the look from day to night by changing your accessories like headbands, ribbons, bows, flowers, pins, etc.